Business Contact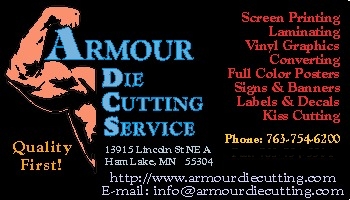 Armour Die Cutting Service LLC
Call for address
Andover, MN 55304
612-590-2103
E-mail :


You can print this page and use it as a business card.
Your satisfaction is unconditionally Guaranteed!
We offer RISK-FREE purchasing.


Thank you to all of our Customers for Helping us grow! New items are added to our website as we have them available! There is something new just about every month. We currently stock many different items that we manufacture at our shop in the USA. Think of us first every time you need a quality product at a fantastic price.

Helpful Information for our customers:



Shipping and Handling: All orders are shipped via USPS or UPS Ground from MN within two days of payment and address verification. Orders are insured up to $50.00 FREE OF CHARGE.



International Buyers are Welcome: If you do not live in the United States, Please email us at info (@) armourdiecutting (dot) com before you place any order to get the correct shipping cost. Please give your address, state and country you live in and which items you wish to purchase.

NOTE: We will then send you an invoice to pay from with any creddit or debit cad. We strive to keep shipping as low as possible for international customers.




Rush Orders: Need it fast? We most likely can help! Call toll free 1-877-ExSTINK, or e-mail info@armourdiecutting.com, to arrange expedited shipping. (UPS or US Mail)



Payment: All major credit cards accepted onlne through PayPal sent to mike@armourdiecutting.com. Mail Personal checks, money orders or cashiers check. Payable to Armour Die Cutting.




Privacy: We Protect your personal information. Armour Die Cutting Service LLC pledges a safe and worry-free shopping experience. We protect all of your personal information, including your name, address AND payment information. We don't collect personal information without your knowledge. We don't sell, rent or give your personal information to any second or third parties.



Contact Us:
By Mail: Call for mailing address in Andover, MN 55304
By Phone: 612-590-2103
By Fax: 763-413-0665
By Email: info (@) armourdiecutting (dot) com




Sales Tax: For Minnesota residents only, all products and shipping and handling charges are subject to sales tax. Minnesota residents buying for the purpose of resale should fax resale ST5 form license number to 763-413-0665.



Returns: For items received as described, a refund for the cost of the items minus shipping and handling charges and a 10% restocking fee will be issued. Buyer is responsible for return shipping costs and for sufficiently packing and insuring returned items unless otherwise agreed upon. Refunds will not be issued for damaged merchandise. All returns must be made within 7 days of delivery to you.






Armour Die Cutting Service LLC
Call for mailing address
Andover, MN 55304
TOLL-FREE: 1-877-ExSTINK
LAND LINE: 612-590-2103
FAX: 763-413-0665
E-mail: info (@) armourdiecutting (dot) com
Back to main page
We ship internationally and to all of these states: Alabama, Alaska, Arizona, Arkansas, California, Colorado, Connecticut, Delaware, Florida,,Georgia, Hawaii, Idaho, Illinois, Indiana, Iowa, Kansas, Kentucky, Louisiana, Maine, Maryland, Massachusetts, Michigan, Minnesota, Mississippi, Missouri, Montana, Nebraska, Nevada, New Hampshire, New Jersey, New Mexico, New York, North Carolina, North Dakota, Ohio, Oklahoma, Oregon, Pennsylvania, Rhode Island, South Carolina, South Dakota, Tennessee, Texas, Utah, Vermont, Virginia, Washington, West Virginia, Wisconsin and Wyoming.