Magnetic Sheeting by the Roll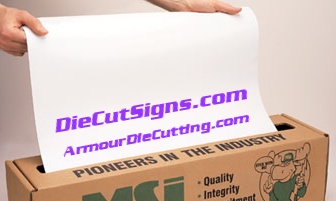 Guarenteed 100% MADE IN USA
100 square feet $139.00 - .030" thick white mag or mag adhesive strong magnetic material.
Very clean surface coating on the white vinyl/mag:
Custom sheeting available upon request.

Limit 2 rolls per customer from this order page!
Call for shipping quote on more than 2 rolls.
Each roll weighs 64 pounds.
Magnetic sheeting by the roll 24" x 50' x .030" = 100 square feet
The magnets are strong. The material is white vinyl or adhesive.
Other colors of vinyl magnetic material available upon request.
To order your magnets roll stock, click the "Add to Cart" button below.
Custom sizes and shapes available upon request. Contact
**These Major Credit Cards Accepted**











Credit card transactions are the fastest, safest way to get you items!
Order Online Now by clicking the "Add to Cart" button!
Mag / white vinyl
IMPORTANT: If ordering 2 rolls of the white Click the 2 rolls "add to cart" button.
DO NOT add 1 roll to your cart and change the quantity
because it will not show the correct shipping cost.
1 roll of
100 sq. feet
.030" thick white
$139.00


2 rolls of
100 sq. feet
.030" thick white
$275.00


Mag/adhesive
1 roll of
100 sq. feet
mag / adhesive
.030" thick
$159.00


1 roll of
100 sq. feet
mag / adhesive
.020" thick
$115.00

Shipping and Handling
THESE ROLLS ARE HEAVY!
(shipping is added when checking out)
Shipping costs:
shipping one 100sq ft roll is $38.50
shipping two 100sq ft rolls is $68.50
UPS shipping only to USA lower 48
You will receive a tracking number from UPS when your order ships.
You will also receive our order/address verification e-mail.
If interested in a custom size or shape, larger or smaller size, please contact for quote.
We can manfacture custom sizes or die cut to size with
one of our many stock shaped steel rule dies.
Magnets available with or without screen printing upon request.
Have a size in mind, contact us to see if we have it.
If not, we can make a steel rule die per your instructions.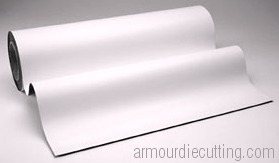 So sorry, BROWN IS NOT AVAILABLE