Pin Collection Hang Tags
Pin collection hang tag cards to display your pins.
Black vinyl screen printed with gold metal flake ink and die cut to size with
two circle holes, one to hang the tag and one hole to poke the pin through.
Perfect to display many collectable lapel pins on a rack.
The size is 1 1/2in. x 2 3/8in. ( 1.5" x 2.375" )

If you don't see a menu bar on the left, click here.

100% Made in the U.S.A.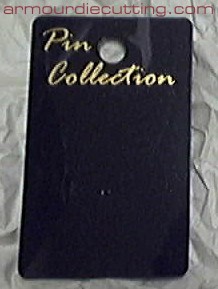 To order, please scroll down.
Be sure to read the entire page, sometimes we sneak in special offers.
We specialize in making custom screen printed and die cut items like this.
Be sure to contact us if you have any custom projects large or small.
These retail display pin hang tags are made of high quality
thick black gloss rigid vinyl, screen printed and die cut so they can be
hung from racks at the work place, office, store, home or shopping mall.
When you click the "ADD TO CART" button, the page will refresh
and a new window will pop, displaying your shopping cart.
Please hold down your Ctrl button to overide your popup blocker.
**These Major Credit Cards Accepted**











Credit card transactions are the fastest, safest way to get you items!
Order Online Now by clicking the "Add to Cart" button below!
Shipping and Handling
(shipping is added when checking out)
Shipping costs are determined by the amount in your cart:
$.01 - $9.99 shipping is $6.50
$10.00 - $49.99 shipping is $8.50
$50.00 - $99.99 shipping is $10.50
$100.00 - $199.99 shipping is $16.00
$200.00 and up is $24.00
UPS shipping only to USA lower 48
To purchase these Pin Collection cards with your check or credit card
click on the Add to Cart button under the bulk quantity you want.
Ideal for shopping malls and stores.
100 Pin Tags
$34.99

200 Pin Tags
$56.99

500 Pin Tags
$112.00

1000 Pin Tags
$199.99


Add some USA flag decals to your order Click here to see them
See our brushed chrome silver and bright PUSH /PULL Decals here.

After you place your order, you will receive an e-mail receipt from PayPal.
When we receive notification of your payment, we will send you
a Payment received, "Shipping" e-mail.
Please reply so that we know your order is correct and shipped to the right person.
Yes, this is a lot more work for us to do this "DOUBLE CHECK" your order and
it sure makes people happy knowing they are dealing with a real person who cares!

Contact us or see our home page.



Click here to get rid of pet and smoke odors
Distributed Around the World by Armour Die Cutting Service!