Check out more Terrorist Novelties here.
'Most-Wanted' Crosshair Targets!
Scroll down to see the video of Saddam hanging
and to purchase your most wanted collectable targets
Guaranteed made in the USA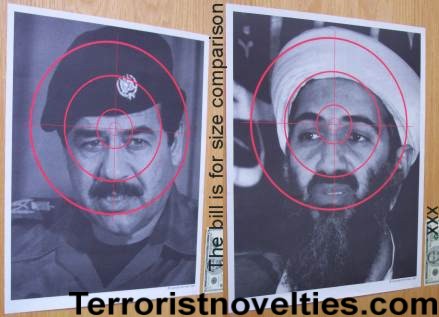 AUTHENTIC Large Certified Targets
These targets are 17.5" x 23"
The full size images which feature the top "most wanted"
Iraq dictator Saddam Husayne (was hung to death 12/30/2006)
and terrorist leader Usama Bin Laden
are printed very clear and have red crosshair centered on the forehead.
This is where to buy the best quality poster sized
original, copyrighted by TNT Press target practice targets.
These excellent quality poster size NFAA approved thick paper targets
are manufactured in the United States and are of the two most wanted
personalities, Saddam Hussein and Osama Bin Laddin
These novelty targets are suitable for target practice
and setting the sites on your firearms, cross bow or using as a dart board.
How to buy the most wanted Bin Ladin or Husane high
quality targets that everyone is going wild over, just
click the add to cart buttons below to order!
Shipping and handling:
All orders will ship same or next business day.

To purchase one or more "most-wanted" targets with your
personal check or US issued major credit card, click the add to cart button below.
(shipping is added when checking out)
Shipping costs are determined by the $ amount in your cart:
$.01 - $9.99 shipping is $6.50
$10.00 - $49.99 shipping is $8.50
$50.00 - $99.99 shipping is FREE
$100.00 - $199.99 shipping is $16.00
$200.00 and up is $24.00
UPS shipping only to USA lower 48 street addresses.
If your order total is $10.00 or more, will receive a tracking number from UPS.
Orders that total $9.99 or less ship via USPS. PO boxes are OK and ship via USPS.
4 Saddam targets
Sold Out
He is dead

8 Saddam targets
Sold Out
Most wanted cards

12 Saddam targets
Sold Out
He is dead

20 Saddam targets
Sold Out
He is dead
We just sold out today 2/20/2007 of the Osama targets
If you want to order 100 or more, please do and we will
set up and run your order. 15 to 20 business days lead time.
Otherwise there are none left.
4 Osama targets
Sold out

8 Osama targets

Sold out

12 Osama targets
Sold out

100 Osama targets
$250.00

pops new window
This is where you will be able to see the Saddam hanging video
See the Taliban Olympics Movie
Add some USA flag stickers to your order here
Mail in your payment? OK
NO CHECKS! US Postal Money orders only.
Mail your payment to:
Armour
PO Box 701
Osseo, MN 55369
**These Major Credit Cards Excepted!**











Credit card transactions are the fastest, safest way to get you items!
Order Online Now by clicking the "Add to Cart" button above!
Thank You for Visiting Our Sale!


Get some sturdy CD-ROM mailers to send your CD's to friends!


100% natural non-toxic Odor Remover
addfree stats counter