Magnetic Vent Covers
Fireplace Magnetic Covers
Scroll down until you see the fireplace, several sizes available.
Custom orders welcome!
Scroll down to see our full line of magnetic vent covers.
100% MADE IN UNITED STATES of AMERICA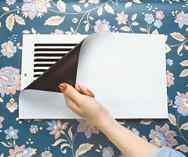 100% made in USA Thick and the most powerful available.
More powerful and thicker than the out of country made stuff others are selling. Better than the BIG BOX stores, do not judge our product by their reviews!
Fireplace magnetic vent covers for sale too! Scroll down to see them.
We manufacture magnetic vent covers to put on your furnace heat register or air conditioning vents
to block air in rooms not used to conserve energy and save money on utility bills.
How to block draft on fire place when not in use? Use my thick, strong magnetic vent covers!
CUSTOM ORDERS WELCOME!
Magnetic PowerMag© Vent Covers
White, Red, Yellow and Blue - standard size 8" x 15" x .030"
custom size orders are welcome, contact us for quote.
Note: These are THICKer and STRONGer than the big box stores and amazon sellers
.030"Thick and more magnetic power than any other!
Red, Blue, black and Yellow mag vent covers also available!
<---If you don't see the menu bar on the left, please click here.
Please scroll down to see all items and place your order.
If your vents won't hold a magnet, there are solutions.
You can purchase the tin foil/adhesive 1" strips to go all the way around
the outside of your vent or the thin vinyl with adhesive back vent covers.
**These Major Credit Cards Accepted**











Credit card transactions are the fastest, safest way to get you items!
Order Online Now by clicking the "Add to Cart" button below!
Save Energy, Make Rooms More Comfortable and Reduce Your Fuel Bills.
Just place a cover over any register to help control air flow and
direct it to where it is really needed. Best deal is on the 8" x 15"
and is made of flexible, white magnetized vinyl.
Easy to trim with scissors to fit any vent and can be painted.
If your furnace gas, propane or electric bills
too high, these vent covers will help a lot if you
put them over the registers in rooms that are not in use.
Winter or summer our thick vent cover will save you money!
Here is a picture of what the
magnets looks like: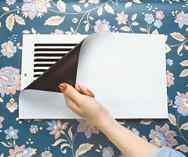 These vent covers are new and manufactured right here in Minnesota, USA from
the highest quality, guaranteed Made in USA magnetic sheeting.
If interested in buying bulk (10 or more sets) or a
custom larger or smaller size, please contact for quote.
Best deal is 4 white 8" x 15" mag vent covers $16.99 per set of 4.
Custom size orders welcome! Contact for quote
Scroll down to order

To purchase one or more magnet vent cover sets with your
personal check or US issued major credit card, click the add to cart button.
(shipping is added when checking out)
Shipping price is per dollar amount in your cart:
The 24 1/8" x 24" has special packaging costs and not subject to these rates.
$1.00 - $9.99 = $6.50
$10.00 - $49.99 = $8.50
$50.00 - $99.99 = $12.99
$100.00 - $149.99 = $16.00
After you make your purchase, you will receive an e-mail from
us within 24 hours to verify your address and order that you should reply to.
International shipments must contact us for price quote.
When you click "Add to cart", it will pop up a new window.
Please disable your popup blocker
4 white mag vent covers
8 1/8" x 15" $16.99


4 White Mag
8 1/8" x 15"
Vent Covers
$16.99



3 red Mag
8 1/8" x 15"
Vent Covers
$14.99



3 yellow Mag
8 1/8" x 15"
Vent Covers
$14.99



3 blue Mag
8 1/8" x 15"
Vent Covers
$14.99



3 black Mag
8 1/8" x 15"
Vent Covers
$14.99



5 White Mag
4" x 10"
Vent Covers
$14.99



4 White Mag
6" x 12"
Vent Covers
$14.99



3 White Mag
10" x 10"
Vent Covers
$14.99



2 White Mag
12" x 12 3/16"
Vent Covers
$14.99


Stop drafts
block air
redirct air
Made in USA


If your ceiling vent looks like the one below,
these mag vent covers will hold good.
This picture shows the vent without the mag vent cover.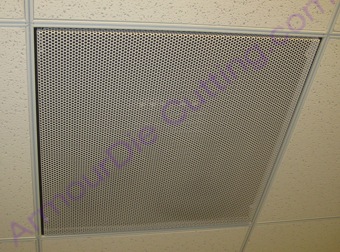 2 White Mag 24 3/8" x 24"
Magnetic Vent Cover
$26.99 for 2 pieces 24 x 24
shipping $8.50 + special packaging $8.50
Each order custom cut and packed
A minimum of 1 set of 2 can be ordered of this size.



1 black Magnetic Fire Place Vent Cover 6" x 36"
Magnetic Vent Cover to put on Fireplace Vents
to block the cold draft When not in use
$14.99 each




2 White Magnetic Fire Place Vent Covers 6" x 36"
Magnetic Vent Cover to put on Fire Place Vents
to block the cold draft When not in use
$18.99 for 2 pieces




1 black Magnetic Fire Place Vent Cover 6" x 42"
Black Magnetic Vent Cover to put on Fireplace Vents
to block the cold draft When not in use
$17.99 each



2 White 11" Diameter x .030" thick for circular vents
Plus 12 Powerful 1/8" x 3/8" metal disk magnets
The 11" diameter magnetic sheet in not contoured.
The picture makes it look like the mag cover is contoured, but it is not.
It's a flat magnetic sheet die cut to the shape of a circle.
Four small metal disk magnets show around the rim to assist adhesion.
You will actually get 12 of the small metal disk magnets when you order this set.
1 set = 2 - 11" dia. mag vent covers and 12 - 1/8"x3/8" metal disk magnets
1 set will cover 2 vents.
Special sale price: 1 set - $19.99
For aluminum and non-metalic vents.
White Vinyl Adhesive Back Vent Covers*
6 pieces 8" x 15 x .0035" for $14.99

12 Pieces
3/8"x1/8" Powerful metal Magnets
Strong Rare Earth Disc Magnets
$12.99



Get these to add strength to the mag
vent covers if placing on ceiling
We might even send a penny if you order these.

1" wide tin foil strips
with adhesive on back
Magnets adhere good
1 inch x 36 inches - $6.99



Get these to make your non-magnetic vent work.
Peel liner paper, adhere to vent.
If placing vent on ceiling
you may need the above disk magnets.



* When removing the white vinyl adhesive back vent covers, heat up with a hair dryer and peel slowly. If you are not careful, the paint and or finish may be damaged. The adhesive is a removable adhesive that after time will become permenant and ADCS will not be held liable for any damage that may occur to your vent.

Money order and credit card payments ship right away!
Checks take 7 to 10 days to clear.
Click here to get our address for mailing in your check or money order for your magnetic vent covers.

How can I save money on my gas and electic bill?
Answer: Place the magnetic vent covers over vents that leak air into unused rooms and areas.



A totally non-toxic odor remover and eliminator, ExSTINK!

Thank You for Visiting Our Magnetic vent Cover Sale!




1 white magnetic vent cover 20" x 20"
$19.95
Special packing $4.95 and shipping cost is $10.95





1 white magnetic vent cover 14" x 14"
$16.95
Special packing $4.95 and shipping cost is $9.95

IF YOU DON'T SEE A SIZE YOU NEED, PLEASE CONTACT US.

We ship internationally and to all of these states: Alabama, Alaska, Arizona, Arkansas, California, Colorado, Connecticut, Delaware, Florida,,Georgia, Hawaii, Idaho, Illinois, Indiana, Iowa, Kansas, Kentucky, Louisiana, Maine, Maryland, Massachusetts, Michigan, Minnesota, Mississippi, Missouri, Montana, Nebraska, Nevada, New Hampshire, New Jersey, New Mexico, New York, North Carolina, North Dakota, Ohio, Oklahoma, Oregon, Pennsylvania, Rhode Island, South Carolina, South Dakota, Tennessee, Texas, Utah, Vermont, Virginia, Washington, West Virginia, Wisconsin and Wyoming. All cities within these states.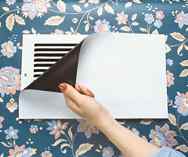 Copyright and trademark * ArmourDieCutting.com * Since 1987